Microsoft  Software for Students
What is it?
MCECS subscribes to a service called Azure Dev Tools for Teaching (formerly called Microsoft Imagine). It provides MCECS students with access to many software products from Microsoft including the Windows operating system, Visual Studio, Visio and Microsoft Project.
Note that the main Microsoft Office products (Excel, PowerPoint and Word) are NOT included in this program.
How do I get access to this software?
To gain access, users will need a Microsoft account. This can be an existing Microsoft account (such as an Office 365, Outlook, or Xbox Live account), or you can register a new one with the following link:
https://account.microsoft.com/account?lang=en-us
NOTE: Your Odin login using username@pdx.edu will not work as a Microsoft account. You may have previously used this login for Azure tools or to access OIT resources such as VLAB, but this is an Azure Active Directory account and will not work in this instance. 
Once your have a Microsoft account, you must verify that the account is affiliated with MCECS and should have access to the Azure Dev Tools software.
To do this, you will be making use of your "cecs" email address. If you are unfamiliar with your "cecs" email address, learn more at:

Click on the following link and log in with your Microsoft account. 
https://azureforeducation.microsoft.com/devtools
It will step you through the verification process. Some users may need to enter a phone number to receive a code to verify their identity. When you get to the Student Verification section, enter your MCECS username@cecs.pdx.edu as your email address. Do not use your regular @pdx.edu email. Your screen should look similar to the following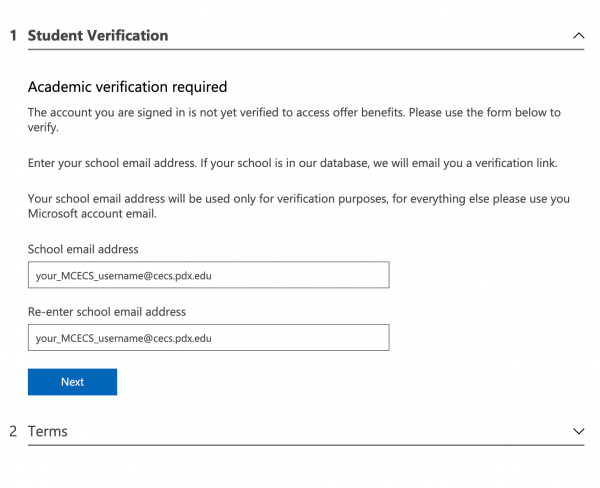 Shortly thereafter, you should get an email in the mailbox that your @cecs.pdx.edu mail address is pointing to. For most MCECS students, this is your @pdx.edu inbox. Click the link in the email to verify your account, and you will be granted access to the software on Azure.
Where do I find this software?
Use the following link and log in with your verified Microsoft account to get to the Azure Education dashboard:
https://portal.azure.com/#blade/Microsoft_Azure_Education/EducationMenuBlade/quickstart
Click on the Software link on the left, and you will see the list of software available to you.