Adobe Creative Cloud is available on these Windows Lab computers
FAB 55-17 (Intel Lab): FAB00
EB 325  (CAD Lab): CAD41
These computers also have flat bed scanners attached to them.
Creative Cloud apps installed on these computers
Adobe Acrobat DC
Adobe Dreamweaver
Adobe Illustrator
Adobe InDesign
Adobe Photoshop
Adobe Premiere
You need an Adobe ID to use Creative Cloud apps
Adobe has recently changed their Creative Cloud licensing policy on shared lab computers (which Adobe calls shared device licenses). You are now required to use an Adobe ID (an account you create with Adobe) to "sign in" to the Adobe product before you can use it.
When you run a Creative Cloud app, you may be presented with an authentication box: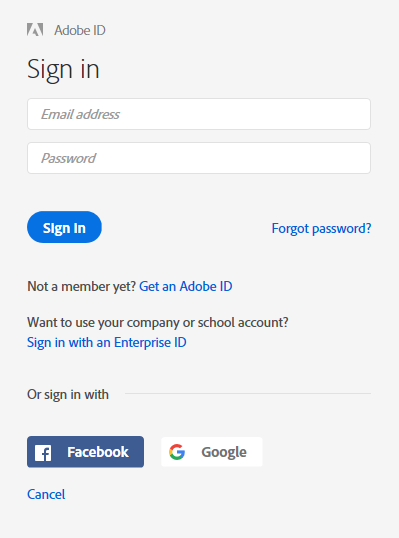 If you have an existing Adobe ID, use it to sign in and the apps will work. Otherwise, the app may tell you that you are running a trial version.
If the Sign In box doesn't appear, you may need to click on the Sign In link that is usually on the top right hand corner of the app window.
Making an Adobe ID if you don't have one
Click on the Get an Adobe ID link on the Sign In box. This will take you to a Sign Up box.
Enter the data needed to create the account. The email address you specify will receive a confirmation email with a link you need to click on verify the account. After that, use the email address / password combination you set up for your Adobe ID and Sign In to the Creative Cloud tool.
WARNING! Do not share any critical passwords you use when you are creating your Adobe ID. (For example, your MCECS account or Odin Account passwords.) Keep these utility account passwords separate.