LEARN ABOUT VPN SERVICES IN MCECS
This page includes procedures for connecting to your stashes from a Mac (a Tier 3 device as far as the Windows/Stash file servers are concerned). For these steps to work, you must make sure that you are successfully connected to one of our VPNs before proceeding.
LEARN ABOUT VPN SERVICES IN MCECS
Step 1 – In Finder, use Go -> "Connect to Server"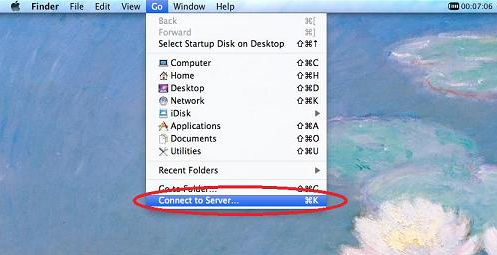 Step 2 – Enter your Stash Path
You should know the name of your stash. To find out the file server path your stash is located on, please visit  https://intranet.cecs.pdx.edu/general/stash/ . (Login with your MCECS account.) You will find the file server your stash is stored on (typically aiur, hydroclimate, caerbannog or just stash). Your path will be "smb://your_file_server.cat.pdx.edu/your_stash".
Enter this into the address bar, removing the quotation marks and replacing "your_file_server" with the fully qualified domain name (eg. stash.cecs.pdx.edu) and replacing "your_stash" with your stash folder's name. Then click the "Connect" button.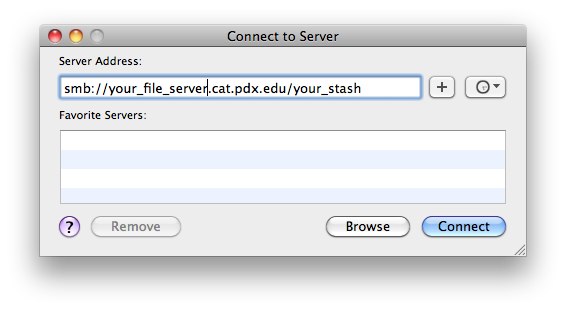 Step 3 – Enter your Credentials
Select the "Registered User" option. In the name field, type in "CECS\username" followed by your MCECS password. Then click Connect and you should be able to see the files/folders in your stash in Finder.