The Intranet is a portal created by the CAT that houses various resources available to students and faculty and helps the CAT manage MCECS accounts. This page will describe the various services you can access from Intranet including checking your storage and print quotas, accessing our remote labs, and changing your password. Some services are only available to faculty and staff.
Log In
To log into the intranet, visit https://intranet.cecs.pdx.edu and enter in your MCECS username and password.
Homepage
Your homepage will display the current disk quota information of the logged in user for both Linux and Windows as well as your Windows Profile quota. Below your disk quota is your current printer quota balance.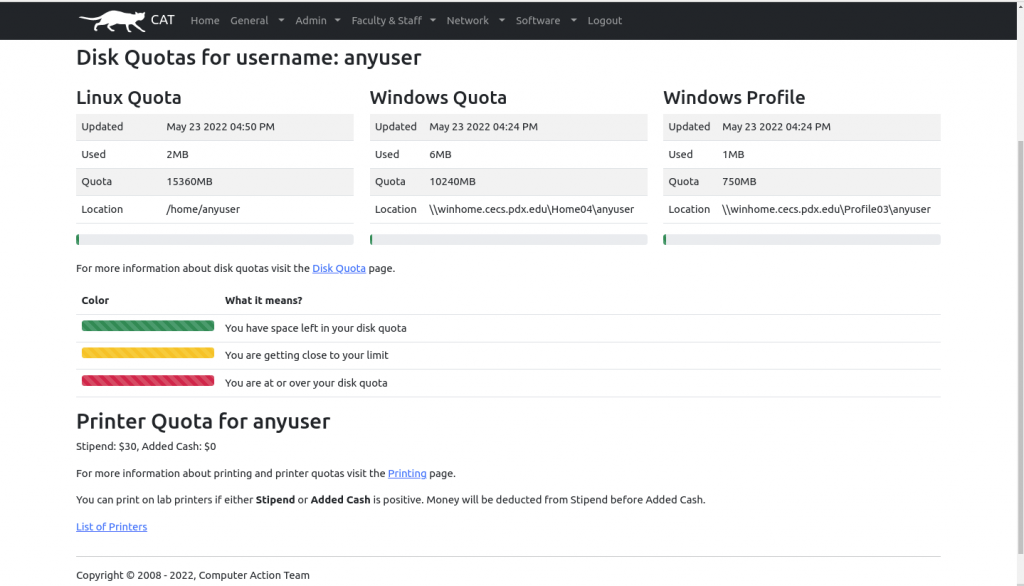 Toolbar
The toolbar contains various links to services dependent on whether you are a student or faculty/staff.
For Students

General – Contains general account information, direct link to remote labs, renting lockers, and adding to your print quota.
Admin – Contains access to group lookups.
Network – Contains hosts and laptop jack search, host registration forms, a list of your hosts, and deployment requests.
Software – Contains installation tutorials and necessary software registration information for software made available to those with MCECS accounts.
For Faculty/Staff
Faculty/staff have an additional tab labeled Faculty & Staff.

Faculty & Staff – Contains student lookup, mailing list information, and various forms for reservations and requests.
General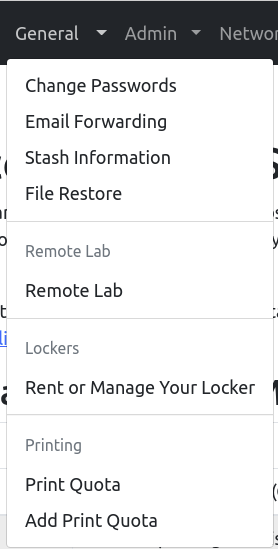 Change Passwords – Change the password of your current logged-in account. These are links available to reset your Linux or Windows-only passwords individually. If a password is forgotten and needs to be reset, use https://cat.pdx.edu/cram
Email Forwarding – MCECS provides an e-mail address based on your department (cecs.pdx.edu/ce.pdx.edu), but we do not provide a mailbox to receive and store your e-mail. E-mails that are sent to your MCECS address must be forwarded to another email account. By default, e-mails sent to your MCECS address will be forwarded to your pdx.edu account. You can change your forwarding address here.
Stash Information – Stashes are online storage that the CAT provides to faculty, staff, or researchers at MCECS. Fill out your request for a stash here.
File Restore – If you lost your files on a Unix computer, you can fill out the form located here. Generally speaking, we can get it back for you. However, sometimes due to a handful of circumstances we will not be able to retrieve the latest version. Regardless, filling out the form located on this page is your best bet for getting your files restored.
Remote Labs – A selection of Windows computer lab systems for remote access. Using either an RDP client or web browser, users can interact with lab machines and use any software that they would normally find while in one of our computer labs.
Print Quota – View your print history and list of printers available. You can print on lab printers if either stipend or added cash is positive. For more information about printing and printer quotas visit the printing page at https://cat.pdx.edu/printing.
Add Print Quota – If your termly allotment for printing in the MCECS Computer Labs has run out, there is now an online process for buying additional print quota credits. The update takes effect within 5 minutes and your PSU Billing Account is charged within a week. 
Admin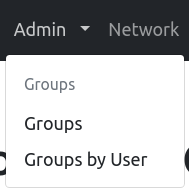 Groups – Contains a list of groups you can administer. After clicking on a group you will be able to add/remove people from that group.
Groups by User – Enter a username in the box to view the groups they are in.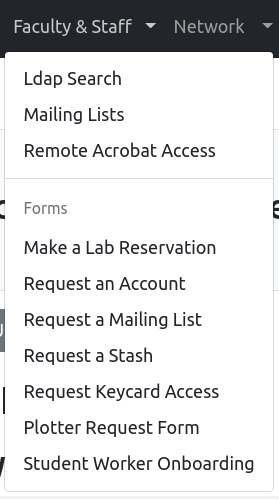 Faculty & Staff
Ldap Search – Search for students based on name or email
Mailing Lists – Large scale email lists give you tremendous power to reach many people simultaneously. A list of available mailing lists is provided. Please ensure the email is MCECS-relevant, related to a departmental need, or has some bearing to a wide subset of college members. Further guidelines are provided.
Remote Acrobat Access – These remotely accessible systems are available to MCECS faculty and staff who need to use Acrobat Pro DC. They are CAT supported Tier 1 workstations (older vintage) and have the software usually delivered for a Staff desktop. Your N: drive, department shares and stashes are available. Do not use these systems for long-duration general purpose work.
Make a Lab Reservation – This form is used to request a lab to be reserved.
Request an Account – Use this form to request the creation or re-activation of a Maseeh College Computer Account for a user who falls into one of the following categories: Faculty, Staff and Sr Research Associate accounts must be requested by the department office.
Request a Mailing List – This form is used to request the creation of a mailing list.
Request a Stash – Use this form to request a stash for Maseeh College projects.
Request Keycard Access – Use this form to request keycard access for a user who falls into one of the following categories: Faculty, Staff and Sr Research Associate keycard access must be requested by the department office.
Plotter Request Form – Use this form to request a poster to be printed.
Student Worker Onboarding – Submit student worker's Odin IDs for onboarding.
Network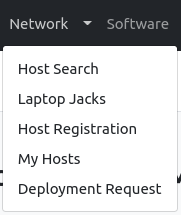 Host Search – Search by hostname to view the current status of the target host. Search by hostname, MAC address, jack, and IP address.
Laptop Jacks – Use this page to request that a jack be made available to laptops registered on our network.
Host Registration – Fill out the form on this page to register computers to work on our wired internet connection in the MCECS facilities. This page can register desktop computers that have a fixed location, such as those belonging to an office or lab. It can also register personal computers that will not be tied to a single location but require wired internet. The third option is for users who have an office with a dedicated laptop jack but would like to retain the ability to use other jacks within MCECS as well.
My Hosts – This page will display a list of hosts that our records show you are the "owner" of.
Deployment Requests – Use this page to request a deployment for a computer. Once a request is submitted, we will contact you to arrange a time and clarify any specifics.
Software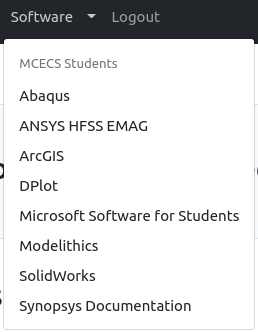 Available software for students and faculty. Leads to direct downloads, install tutorials, or registration keys needed to verify software once installed.