CRAM stands for CECS Remote Account Manager, which is a system that allows users to activate, recover, and manage their MCECS account remotely. You can also visit the Computer Action Team front desk in suite 82 of the Fourth Avenue Building for help with account management.
To use CRAM, log in with your Odin credentials using the following link:
https://intranet.cecs.pdx.edu/cram
When you click on the button labelled "Login Using Odin Account", you will see the Single Sign On prompt to enter your Odin login credentials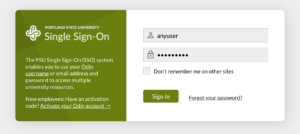 NOTE: your Odin credentials are used to access your @pdx.edu email, Banweb, myPSU, and Canvas. This is not the same as your MCECS account. For more information on the difference, read the "Your MCECS Account vs. Your Odin Account" section in the following guide

https://cat.pdx.edu/users/getting-help/intro-to-mcecs-computing/
If you are a new MCECS user that has an account waiting to be activated, this is what CRAM will look like after you log in.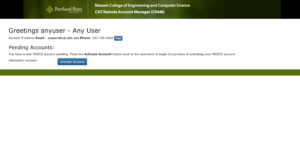 Click on the "Activate Account" button, and then select your department from the dropdown menu. After that, click on the "Request Activation" button.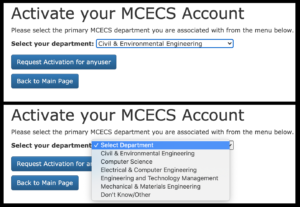 You will then see this page confirming that your account is being activated. It will take between 15 and 20 minutes for your new account to push through our systems. When it is ready, you will receive a notification email in your @pdx.edu inbox to retrieve your account credentials.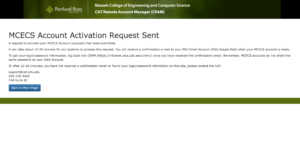 To retrieve your new MCECS credentials, log back in to CRAM. You will see a page similar to the image below with a link to view a password page.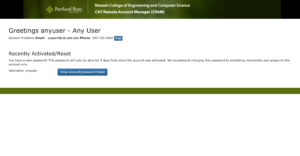 Clicking on the link will bring you to a page with your login name and a randomly-generated password on it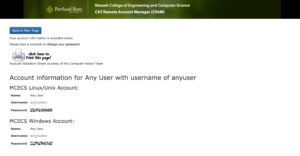 Make sure to save the information on this page. After one hour, this password page will no longer be visible on CRAM and you will be unable to recover this particular password.

After you have gained access to your MCECS account, it is recommended that you change your password. You can learn how in the Change Password section.
If you have forgotten your password and the password page link is no longer available to you, you will need to reset your password on CRAM. You can learn more in the Account Recovery section.
Account Recovery and Reset
If you have forgotten your MCECS account credentials, you can log in to CRAM and recover your login name and/or reset your password.
When you log in to CRAM, you should see your MCECS login name and a button to reset your password.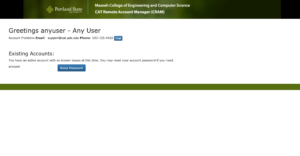 Clicking on the reset password button will bring you to a page asking you to confirm that you want to reset your password.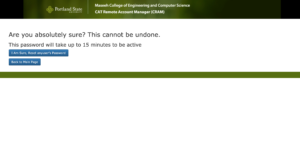 You will then be shown a password page with a new randomly generated password. It will take between 15 and 20 minutes for your new password to push through our systems before it is ready to use.
NOTE ABOUT PASSWORD PAGES AND PASSWORD RESETS

This temporary password sheet will be available to view through the CRAM portal for exactly one hour. If you forget your password after that point, you will have to reset it again through CRAM.

Once you have performed a password reset, we strongly recommend that you then change your password to one of your own choice. Learn more in the Change Password section.
If you want to change your MCECS password, you can visit the password change page on Intranet with the following link
https://intranet.cecs.pdx.edu/password/
NOTE: If you change your password on intranet, this WILL NOT update the password page on CRAM. That page will not change regardless of what your actual MCECS password was changed to.