In the Maseeh College of Engineering and Computer Science (MCECS), most of the physical facilities, including computer labs, are concentrated in two buildings: the Engineering Building (EB), and the Fourth Avenue Building (FAB).
Inside of EB and FAB are labs that are available to all MCECS students, as well as more specialized labs that are department-specific. The rooms containing these resources are protected by a card access system. In order to enter these rooms, you will need to:
Have an active MCECS account.
Be currently enrolled in at least one MCECS class.
Have a properly activated PSU ID card.
Once granted, you will be given all-hours access to these areas.
Table of Contents
Card Access and COVID-19
Students who are planning on accessing university facilities outside of general access hours will need to provide valid proof of vaccination against COVID-19 or an applicable exemption:
Both EB and FAB require card access for entry at all hours of the day, so students who have not met the university's COVID-19 vaccine requirement may be unable to request access to either building.
How to Get Card Access
Getting your card access activated is a three-step process that should be completed upon your arrival at PSU. Be aware that this process can take 1-3 business days to complete.
Step 1: Obtain Your PSU ID Card
First, walk over to the Fariborz Maseeh Hall and get a PSU ID card from the ID services desk located on the first floor.
The ID card needed for MCECS building access should look like the one pictured below: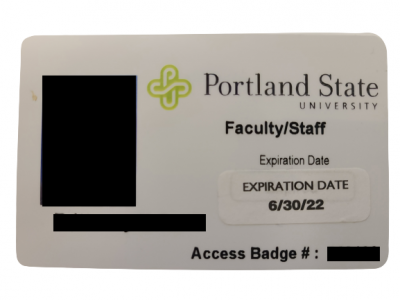 Your first card will be free, and any subsequent replacement cards will incur a fee charged to your account in Banweb. You can find out more about PSU's ID Card Services by visiting their website:
https://www.pdx.edu/student-finance/id-cards
Step 2: Validate Your MCECS account
Next, make sure that you have a functional MCECS account. You may have already claimed your MCECS account after Online Orientation. You can also use our online account activation system, known as CRAM, to activate it after registering for an MCECS class:
https://cat.pdx.edu/users/computer-accounts/using-cram/
You can also visit the Computer Action Team front desk in-person to activate your MCECS account. The CAT front desk is located in the lower level of the Fourth Avenue Building – suite 82.
For more information about your MCECS account and what it has to offer, follow the link below:
https://go.cecs.pdx.edu/mcecs-computing
Step 3: Request Keycard Access Using the MCECS Self Service Portal
With an active MCECS account and a PSU ID, you are now ready to request keycard access to FAB, EB, and any applicable areas inside them. This is accomplished using the "Keycard" tab in our MCECS Self Service Portal:
https://services.cecs.pdx.edu/keycard/welcome
Log in using your MCECS account, not your Odin account. You should then see a screen similar to the screenshot below that lists the spaces in FAB and EB that you are eligible to access. Click the "Request Access to Eligible Spaces" button at the bottom of the page.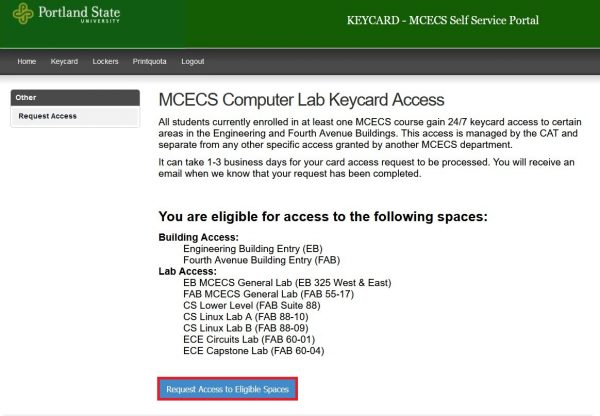 It can take 1-3 business days for your request to be processed. You will receive an email to your PSU inbox once it is completed.
Note: you can always return to this portal to check what keycard access you currently have.

If you believe you should have access to an additional departmental space in FAB and EB that isn't granted by the self service portal, you will need to request access to that space from the associated department.
Computer Labs in MCECS
Activating your ID card and gaining MCECS keycard access through our services portal will give you all hours access into the two general computer labs available to all MCECS students, as well as entry to the two main buildings – EB and FAB.
https://cat.pdx.edu/users/facilities/computer-labs/
In addition, your ID card may also let you into select instructional labs depending on what MCECS classes you are registered for.
During your journey through MCECS, you may need access to more specialized departmental labs. That access will be directly handled by the department as needed.
Locker Rentals
Now that you have access to the EB and FAB, you can also rent a locker in the Fourth Avenue Building for a fee. These lockers are great for storing books, backpacks, and equipment so that you can be unencumbered while on campus.
The first step to renting a locker begins on the website.
https://services.cecs.pdx.edu/
You will need to use your MCECS account to login to this site. Go to the lockers tab and follow the instructions after clicking on the "rent locker" item on the sidebar.
More details on how to rent an MCECS locker can be found by visiting the CAT website.