PSU students can use their ID card to enter the Engineering Building (EB) and the Fourth Avenue Building (FAB) and enter general pool classrooms during general access hours between 7:30 AM and 9:30 PM.
However, MCECS students can also request 24/7 access to FAB, EB, and the general labs by going to the MCECS self-service portal page. This guide will walk through how to request access.
For faculty and staff, a department may provide the PSU ID number of the eligible individual. Once the CAT is notified of this, we will grant the individual access as specified by the department.
Table of Contents
Card Access Prerequisites
Before requesting card access, you will need a valid MCECS account and a PSU ID card.
You can activate your MCECS account by going to the CRAM remote account management page or by coming to the CAT's front desk. 
To get a PSU ID card, visit ID services at Fariboz Maseeh Hall.
Requesting Card Access
Log in to the MCECS Self Service Portal with your MCECS account credentials and click on the Keycard tab at the top. You should see a page similar to the image below that will list out what facilities you can request card access for. Click the Request Access to Eligible Spaces button to send your request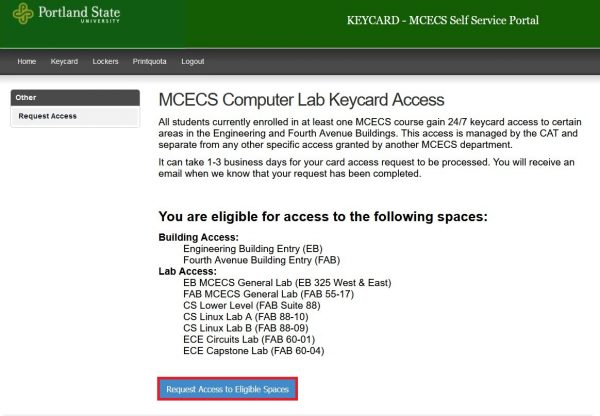 Please allow 1-3 days for your request to be processed. You will be notified via your PSU email when you have been granted access.
List of Eligible Labs
The CAT handles access to the following  labs through the self-service portal.
EB 325 MCECS General Lab – All MCECS Students
FAB 55-17 MCECS General Lab – All MCECS Students
FAB 88-09 CS Linux Lab – CS Student Only
FAB 88-10 CS Linux Lab – CS Students Only
FAB 60-01 ECE Circuits Lab – ECE Students Only
FAB 60-04 ECE Capstone Lab – ECE Students Only
EB 420 MME MCAE Lab – MME Students Only
The labs you can request access for will depend on your department affiliation.
If you believe that you are eligible for access to a lab on this list but do not see it on the self-service page, contact the CAT for further assistance.
If you are trying to get access for a lab that is not on this list, you will need to contact the respective department for further information.
How to Use Card Readers
The card readers are small, dark gray squares next to the doors in EB and FAB. The image below is an example of one.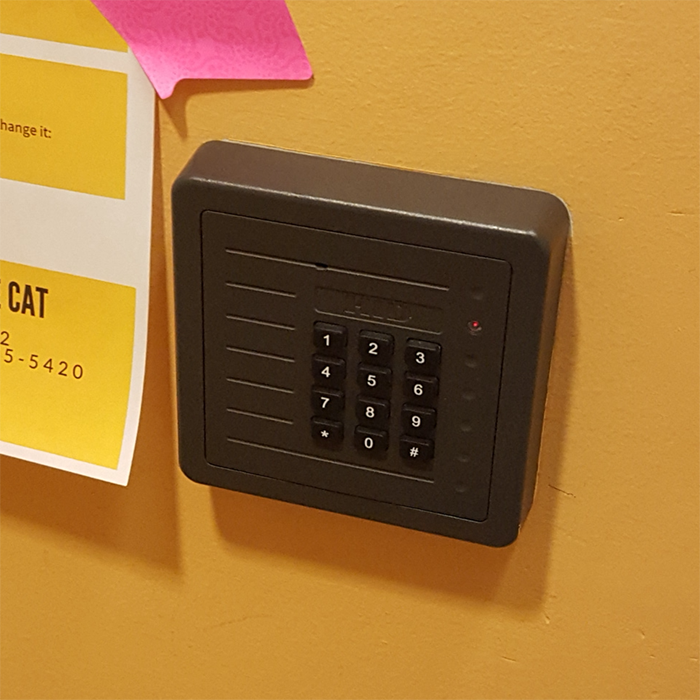 To unlock the door, tap your ID card on the reader. The light will turn green and you will hear the door mechanism unlock. If the card reader is not able to read your card, you may need to take your ID card out of your wallet or holder and physically touch the card with the reader.
Locker Rentals
Lockers are available to rent in the basement of FAB for a fee. This can be done by going to the MCECS self-service portal and clicking on the Lockers tab at the top. For more details, visit the CAT's guide on locker rents at MCECS.