OIT has set up a virtual Windows lab (VLAB) to mimic the environment and software they provide on their general use on campus labs, such as the labs in the Millar Library and the FMH building. It is hosted off site as a cloud-based service.
The VLAB requires that you use your Odin account to login.Access to the VLAB is restricted to currently enrolled PSU students and faculty. You will not be able to use the VLAB if you have an affiliate Odin account or if you are not enrolled for the current or a future term.
Instructions on how to log in to the VLAB:
https://portlandstate.atlassian.net/wiki/spaces/ITKB/pages/885653584/Virtual+Computer+Lab+VLAB
If you are a user who wants to remotely run some of the software that is site licensed to all of PSU, the VLAB is an alternative if you are having trouble getting at MCECS systems to run them. Some of these programs are:
Matlab
Mathcad
R Studio
arcGIS
SPSS
The VLAB also includes the Microsoft Office tools.
Your MCECS home directory is not available on VLAB system by default. To access files from your MCECS N: drive space, you will first need to find the server path to your N: drive. You can learn that by going to the CAT intranet:
https://intranet.cecs.pdx.edu/
On the home page of the intranet, you will find the server path to your N: drive as the "Location" under your Windows Quota column. It will look something like the following where XX and yourusername will be replaced by the path that is unique to you:
\\winhome.cecs.pdx.edu]\HomeXX\yourusername
Note that username. Then, on a VLAB system, fire up the file explorer, and navigate to that server path. You will then get an authentication box that looks like this: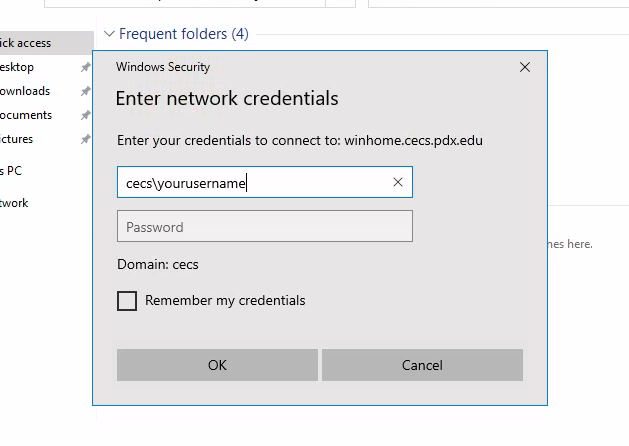 Make sure you have entered CECS\ in front of your username and then fill in your MCECS password. You will then be able to access the contents of your N: drive from MCECS on this VLAB system.