Using the Internet of Things Wi-Fi Network
Because Internet of Things devices cannot use the regular PSU Wi-Fi on campus, MCECS has partnered with OIT to build a separate Wi-Fi network called PSU-IoT that meets the needs of Internet of Things devices.
Users enrolled in authorized classes or sponsored by faculty members will be given access to the Internet of Things page on Intranet, where they can manage their IoT devices' access to the PSU-IoT Wi-Fi network.
A few things to be aware of:
This network is still undergoing development, so please be patient as we continue to work out the bugs in it. If you notice any issues while using it, please report them to the CAT.

Currently, PSU-IoT covers all of FAB and EB.

Be aware that the PSU-IoT network falls under PSU's Acceptable Use Policy. Users are responsible for any violations from devices using Pre-Shared Keys registered by the user.
WARNING
Do not attempt to log on to the regular PSU Wi-Fi network with your IoT device before registering it.
Doing so will prevent your IoT device from getting on the PSU-IoT Wi-Fi afterwards. If you have previously tried using the regular Wi-Fi network with your IoT device and are having trouble getting your device on the PSU-IoT Wi-Fi network, contact the CAT to get help
Who can Register an Internet of Things Device
For students enrolled in classes with Internet of Things projects, they will automatically be given access to register their devices on the PSU-IoT Wi-Fi. They will only have access to the network during the term of the class, and after the term ends their devices will be removed from the network.
Users can also receive authorization if they are sponsored by a faculty member. The faculty member should contact the CAT to request access for the user.
How to Register Your Internet of Things Device
Users can register your Internet of Things device by going to Intranet and clicking on the Network tab. In the drop-down links, you should see a link for Internet of Things.

To register a device, enter its MAC address and create a Pre-Shared Key, or PSK. The registration page will automatically generate a random PSK for you, however you can enter your own key as well. Be aware that a custom key must be at least 10 characters long and should only use alphanumeric characters.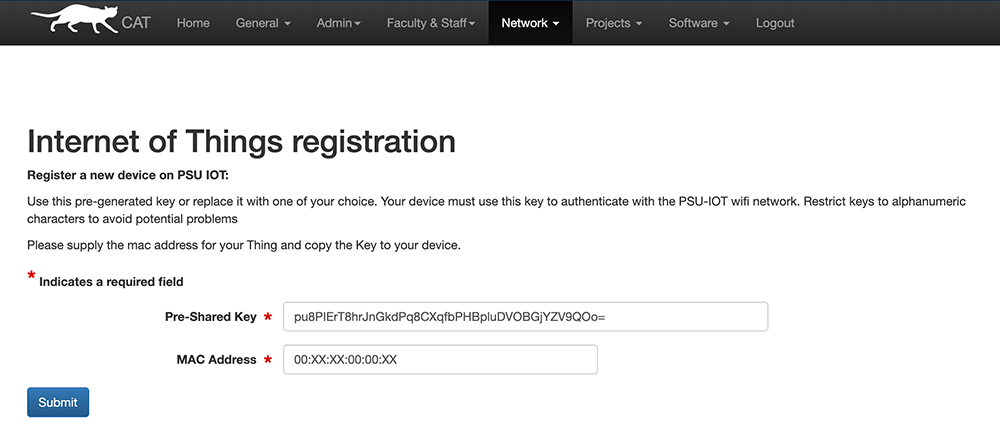 Once your IoT device is registered, you will use the PSK to log the device onto the PSU-IoT Wi-Fi network. Please remember to keep your PSK confidential.
Managing Your IoT Devices
It is possible to register multiple devices. When you return to the Internet of Things page on Intranet, you can see your list of registered devices' MAC addresses and their associated PSK.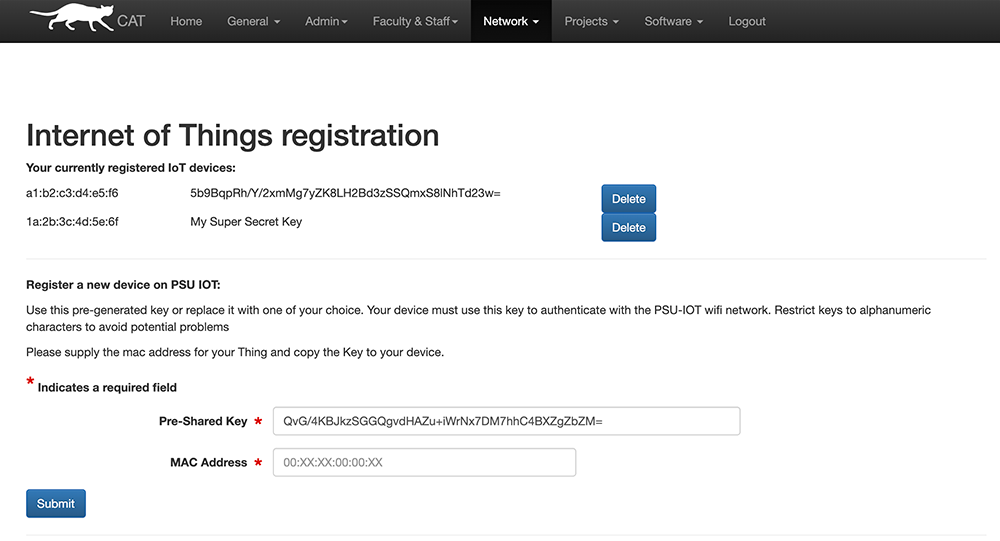 NOTE: You cannot register the same MAC address more than once.
To delete a device from your list, click the blue Delete button next to it.
If you want to change the PSK of a previously registered device, you will need to delete it and then register it again with the new PSK.