OpenVPN allows you to connect to and access MCECS resources while not physically at MCECS, such as certain Linux Servers. This guide will guide you through selecting a VPN tunnel type and setting up the OpenVPN app on an iOS device.
Step 1 – Download OpenVPN Connect from the AppStore
The app can be downloaded at: https://apps.apple.com/us/app/openvpn-connect/id590379981. There is no need to open the app after downloading.
Step 2 – Determine Tunnel Type
We offer two different tunnel options: full tunnel and split tunnel. Both tunnel options give you access to MCECS resources. The split tunnel sends only traffic for MCECS through the VPN, while the full tunnel sends all internet traffic through the VPN. The full tunnel is useful where you want non-MCECS websites to see that you are coming from PSU, such as for library resources.
Full Tunnel: https://intranet.cecs.pdx.edu/downloads/files/openvpn/current/cecs_ios_openvpn/cecs_full_tunnel.ovpn
Split Tunnel: https://intranet.cecs.pdx.edu/downloads/files/openvpn/current/cecs_ios_openvpn/cecs.ovpn
Step 3 – Import Profile
1. Open the downloads menu by selecting the blue circle with a down arrow, then select Downloads again.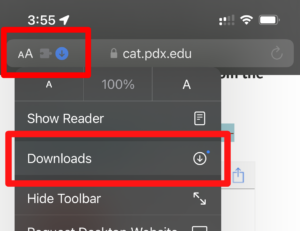 2. Select the downloaded OpenVPN file.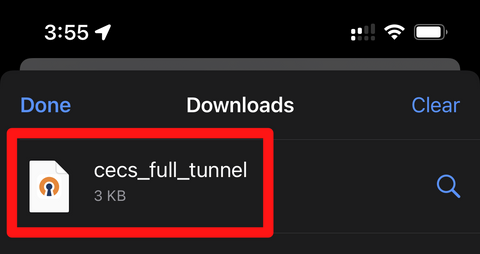 3. Select the share icon, then scroll through the app list to select OpenVPN.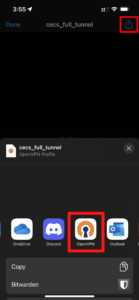 4. The OpenVPN app will now open, and you will be prompted to add the profile you selected. Select "ADD".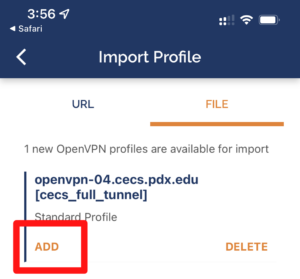 5. You will be prompted to fill in your MCECS username, without the CECS\ prefix. Select "ADD" after filling in your MCECS username.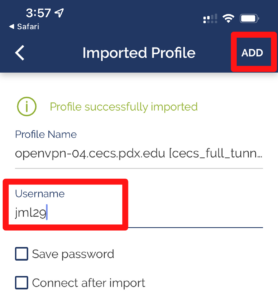 6. iOS will prompt to add the VPN configuration. Select allow. You will be asked to input your iOS device's passcode to confirm.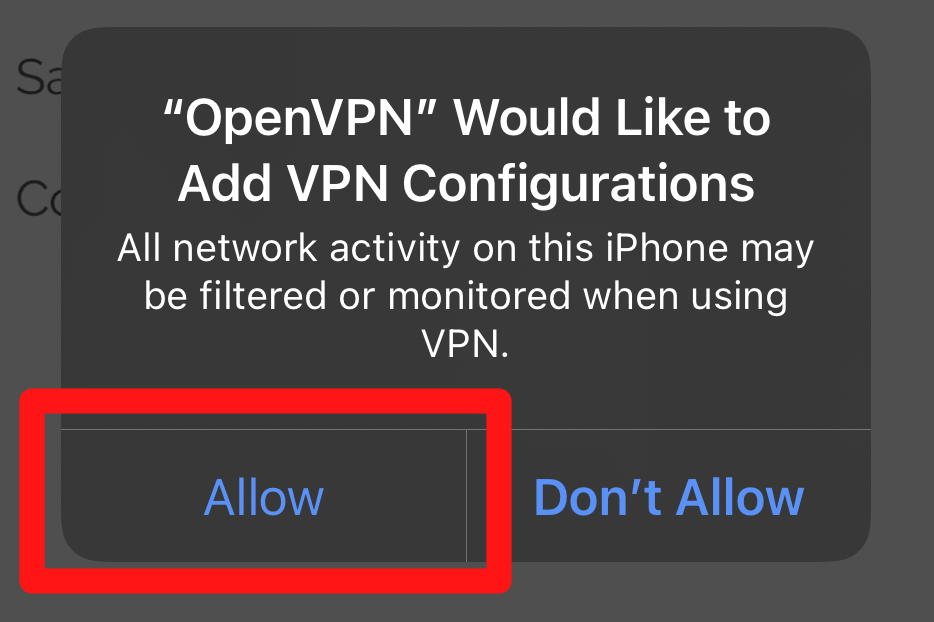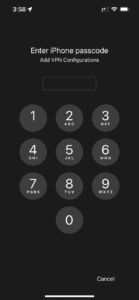 Step 4 – Connect to the VPN
Important Note: while VPN status can be toggled via the settings menu on iOS, the VPN connection will only be active when it is enabled in the OpenVPN app.
In the OpenVPN app, you will see a list of profiles. Select the switch to enable and disable the VPN connection.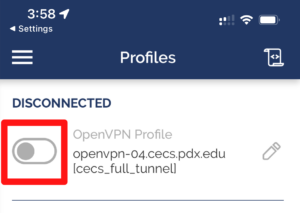 You will be prompted to input your password. Input, then select OK to connect.