Setting up your Chromebook for Classes
Upon receiving a loaned Chromebook from the CAT, there are a number of steps that must be completed to set up your user profile before participating in courses at MCECS. As such, this guide will help you familiarize yourself with the Chromebook by setting up your user profile, as well as provide important information regarding software you are likely to use throughout course participation.
NOTE: The loaned Chromebooks provided by the CAT belong to various faculty members in MCECS to assist students throughout their in-person courses. Thus, the same rules and expectations of use that apply to our physical lab computers also apply to these Chromebooks. The battery life on our Chromebooks vary based on age so it is important to stay near a power supply.

Step 1 – Connect to the Internet
In order to create a new user profile on a Chromebook, you will be prompted to provide an active Gmail account and password. Therefore, you must first establish an Internet connection before creating your own user profile.
Step 2 – Add a new user
Some of the Chromebooks in the CAT's loan pool will have been scrubbed before being loaned out, others will have generic users already created that are inaccessible to you.
If you were first greeted by a "Welcome" screen upon initial startup, you will automatically be prompted to make a new user after connecting to the Internet.
If there are already users upon initial startup, ignore those profiles and select "Add Person" at the bottom left of the screen.
Next, provide your PSU/ODIN email address and password when prompted. You will then be automatically signed into your new user profile that you will use throughout the term.
Step 3 – Download the Zoom extension for Chrome

Given the prevalence of video conferencing via Zoom throughout remote courses at MCECS, and when receiving support from the CAT, it is required that the Zoom extension for Chrome is installed before classes begin. If it is not and Zoom is launched via the Chrome browser, numerous technical issues arise making Zoom enormously unreliable. To download and install the Zoom extension, complete the following steps:
In the Chrome browser, navigate to the Zoom app in the Chrome Web Store by clicking here.
Click the "Add App" button on the top right of the page, and then again on the resulting pop-up message.
Click the "Launch App" button on the top right of the same page. The Zoom app will then launch and it will appear on the task bar at the bottom of the screen.
Login to Zoom by selecting "Sign In" and then "Sign In with Google" on the right.
Provide your PSU/ODIN email and password.
Familiarize yourself with using the app by visiting the Zoom Help Center.
Step 4 – Login to D2L
Next, navigate to D2L and login. Confirm that D2L is working correctly by accessing all registered courses and the contents of each course so that any issues may be addressed and resolved before classes begin. Contact OIT or your instructors for any issues you find.
Hooray! You are now ready to use your Chromebook for courses at MCECS!
Remote to Linux and Windows using Chromebook
Secure Shell App

Use this app to create shell sessions and log on to any CAT-managed Linux environment, such as ada.cs.pdx.edu or babbage.cs.pdx.edu. To install, follow the same steps as shown with the Zoom app above. After launching the app, a tab will appear in your Chrome browser with a window prompting you to provide a username (your MCECS username) and hostname (such as ada.cs.pdx.edu). After doing so, press Enter to connect to your new session.
For additional help with using the Secure Shell App, visit their website for tutorials.
Remote Access to Windows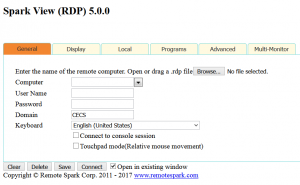 Remote Desktop (RDP) is a protocol that enables a user to remotely login to a Windows computer. The Windows Terminal Server (ts.cecs.pdx.edu) is accessible by all MCECS users. To create an RDP connection using Spark View:
Navigate to https://rdp.cecs.pdx.edu/
Under the Computer field, enter the full computer name of the machine to access (for instance, ts.cecs.pdx.edu, to access the terminal server)
Under the User Name field, enter your MCECS username. Note that, in this case, it's not necessary to type CECS\username as with many of the other RDP options.
Under the Password field, enter your MCECS password.
Click Connect.
When you're done with your RDP connection, it's important that you not merely close your browser window normally, as this will leave your RDP connection running in the background. If you were connected to the terminal server, this means that your connection is using valuable resources on the machine. Instead, navigate to the Windows Start button and click Log Off when you no longer need your RDP connection to insure that your session truly closes.
Remote Access to a Graphical Linux Environment using VNC
Once connected to a Windows machine via RDP as explained in the above section, follow all the steps in the page VNC from Windows to Linux to connect to a graphical Linux session on either mo.ece.pdx.edu or auto.ece.pdx.edu. Note that you do not need a VPN connection to use VNC while connected to a Windows session via RDP.